Why a Routine Eye Exam Is an Important Part of Maintaining Healthy Vision
When women and men contemplate their physical health, they usually do not even think about the health of their eyes. Yet the eyes are counted on more intensely than most other parts of the body. Due to the fact that this is true, it is extraordinarily important that you maintain the healthfulness of your eyes to make sure that you can persist to rely on them to get you through the day. There are a number of ways to handle maintaining your vision, but the one most vital thing you must do is schedule a regular eye exam with your eye doctor in Raleigh.Regardless of who you are or what your age is, a regular eye examination will go a very long way in the direction of insuring that your vision remains sharp and strong. The eye exam may be carried out by your eye doctor in one of our offices – Crabtree Valley Mall, Triangle Town Center, or Goldsboro. The eye doctor is trained to give their patients a comprehensive assessment that contains several of the tests we will discuss below. If you have not been to the eye doctor in over a year, book an appointment for an eye exam as early as possible. So, let's take a look at a few of the items that an optometrist evaluates during the course of your exam, and what they will do to fix the concern.
Tests performed during a comprehensive eye exam
Among the first things that an eye doctor will look out for during the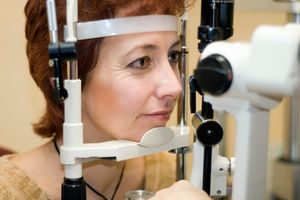 course of your eye exam is refractive error. Refractive error pertains to an imprecision in the way that the eye fixates on light. The end result of a refractive error is a loss in of visual acuity (i.e. acuteness or clarity of vision). In the event of moderate refractive error, patients sometimes prefer to leave the situation uncorrected. However, if the condition infringes on the patient's capacity to perform their day-to-day jobs, then action should be undertaken. During the course of your eye examination, the optometrist will establish the condition and lay out the choices for the patient. Most of the time, refractive error will be treated be wearing eyeglasses or contact lenses. In more serious circumstances, the patient will decide to have refractive surgery. This can all be explained further by your family eye doctor in Raleith in the course of your eye exam.
Eye Doctors diagnose and treat Eye Disease
One more thing to consider is the idea that the eye could be predisposed to particular illnesses, just like any part of the body. Many people have heard of the most commonplace diseases of the eye, such as glaucoma and diabetic retinopathy. Given that these ailments commonly display no signs in their early stages, it is imperative that you create a proactive plan to avoid them. This may only be done by paying an arranged visit to have your eye exam. The eye doctor will have the ability to diagnose diseases like glaucoma so that you can take the proper steps to treat the disease before it gets any more serious. Although these conditions are more frequently seen in elderly men and women, it is important to take note that there is still a possibility for eye disease to appear at an earlier age.There are many other health conditions that your eye doctor will be looking for in the course of your eye checkup. As an illustration, the eye condition called Amblyopia, or lazy eye, is exemplified by its poor sight in an eye that would otherwise be considered standard. Created by an inadequate stimulation of vision by the optic nerve to the brain, this condition could be aggravated if it is not addressed swiftly by an eye specialist. Your optometrist will also look for Strabismus, one other eye problem in which the eyes do not successfully coordinate. This condition hinders the patient's capacity to execute depth perception, and as such ought to be diagnosed by an optometrist straight away.Finally, it is imperative that the distinction be established between a fundamental vision screening and an in depth eye examination. Many people accept that by having a registered nurse or primary care medical professional carry out a vision screening they are sustaining an appropriate grade of eye health care. What they do not grasp, however, is that the vision screening may just just consist of the reading of letters off a chart which can vary in dimensions. After factoring in the numerous other tests and checks that have been examined above, anyone will understand that the vision screening does not account for the other various problems and health problems that you may have. Thus, by arranging a complete eye examination done at one of our offices in Crab Valley Mall, Triangle Town Center, or Goldsboro, on a regular basis, you can make certain that your eyes continued to be protected.